Dance is an art form that many young children like to participate in, whether formally or informally. Pretending to be a ballerina at home or just dancing to whatever music is being played in the home is a common activity for many girls and boys. Below are ten amazing dancers who have made history and who are worth teaching our children about. Let them inspire you and your children to be great dancers and/or appreciate the art form with a greater sense of cultural pride.
1.Katherine Dunham (June 22, 1909 – May 21, 2006)
Katherine Dunham was an innovator in modern dance as well a leader in dance anthropology. In addition to being a dancer and choreographer, for almost 30 years she had her own dance company, which include the following alumni: Alvin Ailey, Rosalie King, Eartha Kitt and Walter Nicks. She has been called the "matriarch and queen mother of black dance". Young children at the Debbie Allen Dance Academy can bee seen in this video learning Dunham technique.
2.Debbie Allen (born January 16, 1950)
While Debbie Allen has many television and film, and Brodway credits under her belt, she has made quite an impact in the dance community. She has received 3 Emmy's for her choreography works and in 2001 founded the Debbie Allen Dance Academy so that young people in the Los Angeles area could learn the language of dance. She choreographed for the Academy Awards for 10 years, six of which were consecutive.
3.Pearl Primus (November 29, 1919 – October 29, 1994) Peal Primus is known for breaking down social stigmas of African dance in her day by presenting movement to American and Caribbean audiences that was much more nuanced and reflective of the culture than traditional mainstream views of the African experience. Primus obtained her BA from Hunter College, and discovered her natural ability for dance while working odd jobs to fund her educational pursuit of a PhD. Primus was eventually awarded her PhD in Anthropology from NYU and she won numerous awards during her lifetime, including an honorary doctorate from Spellman University, the National Medal of Arts (USA), and the Liberian Government's Star of Africa award.
4.Alvin Ailey (January 5, 1931 – December 1, 1989) I first heard Alvins Aliey's name when I was blessed to see his dance company perform at a theatre in Los Angeles. The Alvin Ailey American Dance Theatre, which was founded by Ailey, has been called by many a "Cultural Ambassador to the World" based on the extensive amount of touring the company does. He is widely known for his modern dance piece entitled "Revelations" and in 1977 he was awarded the Spingarn Medal from the NAACP and in 1988 he received the Kennedy Center Honors.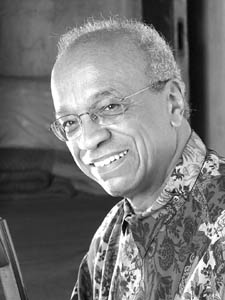 6.Janet Collins (March 7, 1917 – May 28, 2003) Janet Collins was the first Black ballerina at the Metropolitan Opera. She danced on Broadway and also performed in Aida and Carmen. She won the Donaldson Award for best dancer on Broadway in 1951. Currently There is a Kickstarter campaign to make a short animated film about her life so that young people can be inspired by the barriers she broke and accomplishments she made.
7.Asadata Dafora (1890-1965) Asadata Dafora introduced dance dramas that were based on West African myth and lore to the dance world. His words inspired artist like Pearl Primus to incorporate African elements of choreography into performance. Dafora's 1934 production of Kykunkor sold out to 65 performances in New York. He also co-authored a radio play with Orsel Wells called Trangama-Fanga.
Take a look at these little angels learning West African dance, I think Dafora would be proud:)
8.Ashley Murphy (Bio from Dance Theater of Harlem website)
9.Ebony Williams (Bio from Cedar Lake dance company website) Ebony Williams attended the Roxbury Center for the Performing Arts. She is a May 2005 graduate of the Boston Conservatory with a Bachelor of Fine Arts. Williams has performed works by such choreographers as Donald Byrd and Luis Fuente. Being a versatile dancer has given her the opportunity to also work in the commercial world with artists such as Rihanna, Fergie, Ciara (Love, Sex, Magic, featuring Justin Timberlake) and Beyoncé. As one of the dancers in the 2009 MTV video of the year Single Ladies, Williams also performed with Beyoncé on her promo tour, the American Music Awards, the "Today Show" and "Saturday Night Live."
10.Misty Copeland

(born September 10, 1982)

Most ballerinas begin dancing before kindergarten, however although Misty Copeland did not begin formal training until age 13, by age 18 she joined the American Ballet Theater and is the third Black soloist with the company. Copeland was home-schooled for a portion of her high school years to free up time in her schedule for dance. At age 15 she won first place in the Los Angeles Music Center Spotlight Awards in which she received recognition by the Los Angeles Times as the best young dancer in the Greater Los Angeles Area. Copeland had gone on to accomplish many great things in the field of dance and has inspired Project Plié which is an initiative by the American Ballet Theater aimed at boosting diversity within ballet.
Do your children participate in any formal dance classes? Are there any other history making dancers that should be added to this list? Please share.